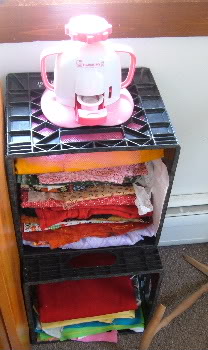 I'm off to run to my pal's to deliver some images, then spin, then go to work. But here are some quick pictures for you.
This is a merino blend skein of purple, bright green and orange. Twisty turny thick and thin! 58 yardsand soft!
I have two skeins of this, a little more than 60 yards each. Bascially I wasn't selling that solid yarn, so I tried an "experiment" knowing full well it woulnd't quite work, taking the already set yarns and plying them, then washign them again. Well the yarn is cute and all, but its scratchy. Not good for a hat unless you lined it! But if anyone wants them, email me b/c I'm willing to sell them for a big discount or do a trade. I was thinking it would be good for something you are not wanting to wear, like a bag or something.
Last, I managed to get my fabric stash down to this:
Not bad. I will probably get rid of even more as I've had some of that in there for years and years! On top is my Hello Kitty Button Maker, which I am so proud of. Too bad it makes better magnets than buttons! oh well.
Have a great day! Yesterday the picnic did not happen as it was looking like a huge storm all day, but never did anything! We are trying again today. 🙂