Its finally a lot less hot and humid today. About 68 compared to almost 90! The past few days have been a little irritating because I have not gotten much done. Everything seemed damp. I'm out of wool and it should be here in the next day or two, but until then I can't do much spinning, just with the bits I have left. I can't really make books b/c the glue would not dry fast enough. So instead I decided to do some yarn pages which should be up later today or tommorrow. yay!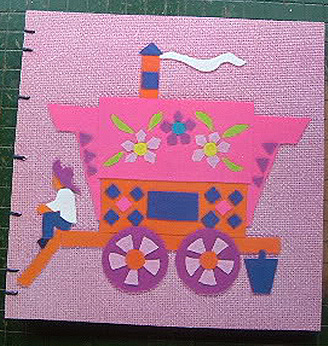 I went down to get my bus ticket today for my trip over next weekend to go see my pal Erika marry. Every year five of us girls get together. We've known each other since high school (well, me, the rest of them have known each other even longer) when we met in summer camp! We promised that we would get together every summer after we were too old for camp, and we actually have never broke our promise. So this is a "wedding reunion". Amanda, Jess and I will drive to Baltimore to meet up with pal Abby. Then we will drive to the wedding in Richmond, VA the next day, and spend Sunday night with Abby again. (Well, I will ride, they will drive, which will be interesting enough in itself since Amanda, well, is not always comfortable driving, and Jess lives in NYC and hasn't driven in years!) Abby can't come to the wedding b/c she is about to burst open and pop out a baby. (Babies, we decided long ago, are not allowed to reunions. Neither are boys.) Our little obnoxious group is very much like the YaYa Sisterhood idea.
Anyhow, that's way more than you all care to know, I'm sure. I'm just excited!
I'll let you know when those yarns are up. Here's a pic of a new book that I made from an old board book. The pictures look like felt collages!