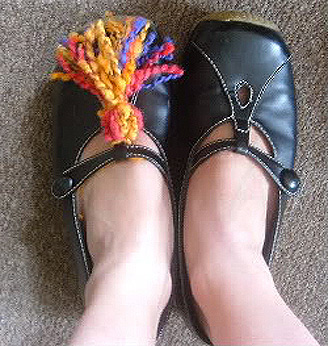 Last night I was up until about 12:30, plying this yarn. Not that is took that long, but after a nice bath and some reading, I felt like playing with what little fiber I had left. I plyed this purple and yellow singles yarn with some shiny thread that changes from red to yellow to blue to every other color. Its is so soft and bouncy! I also had a bit of leftover other yarn that I plyed with black thread, and make some coils. fun!
I should get my farm shipment today. I feel like a schoolgirl waiting for Christmas!
This is what I am getting in my package:
*Few pounds of washed merino (for carding and blending/spinning)
*Few pounds of washed Polyplay wool (for carding and blending/spinning)
*Few pounds of white roving (dying and spinning)
*Some pygora fiber! (a cross breed pygmie and angora goat)
*Some mohair!
*some really pretty already dyed roving for my neice's hat I am working on
I also think I am going to make some tassels with the scraps I have. I gave a bellydancing coworker some of my scraps for this reason, for her costumes, so I thought, why not make some to sell at the market? I think I am going to put a clip on them and people can use them as keychains, zipper pulls, etc. What do you think of that idea? They would be big and fat, I'll show you when I'm done.
Have a great day!
Edited to add: ok here you go! what do you think? I couldn't find clips downtown but I can get some for next time. I'm thinking two bucks. Now back to making them!